Get Unlimited Access with the Booster Pass
Even though the live event is over, you can still access all of the right-brain goodness.
Calling all Right-Brain Entrepreneurs, Creative Souls, Heart-Centered Professionals, Artists, and World Changers:
Thousands of right-brainers worldwide joined me and a panel of inspiring entrepreneurial experts for a heartfelt, mind-stimulating, and soul-stirring interactive event that will empower you to tune into what's truly next for you in your business.
If you've been overworked, exhausted, confused, stagnant, or stressed out by trying (too hard!) to grow your creative business, this power-packed bundle could be just the thing that can make all the difference.



We also had special guests share their inspiring success stories. See first-hand how they dared to ask themselves what's next and followed their calling.
"What's Next?"
You face this question daily, if not minute-by-minute.
You must quickly decide what steps to take to keep your creative business running smoothly. You tackle your to-do list in hopes of accomplishing your next goal.
But when asked constantly without truly checking in to yourself, "What's next?" can lead to whole lotta straining, stress, and dissatisfaction just trying to keep up with the Jones's.
Then you might start wondering, "What the heck am I really doing??!!!" (even if your business is humming along).
Success can be seductive. It can keep you striving toward bigger dreams and loftier goals. And that's okay if that's what you truly want.
But sometimes you need to stop yourself, drop into your heart, and tune in… "What's Next?"
Just want easy access, anytime you need, to:

recordings
learning maps
and checklists?
Cultivate your courage to take on what's truly next for YOU and your business.
At this year's special summit you'll learn the following and so much more:
How saying no to your business can create a big YES to what's next. Sure, it can be scary AND it may be just the thing you're being called to do


Why finding your voice can be the most important thing you do for your creative work and how to keep honing it even when you're filled with doubt


How to create a conscious and compassionate relationship with your money and achieve financial freedom. It's more right-brained than you may think!


How coming out of the spiritual closet can help your business boom


The power of starting small to become big and why listening to your customers is gold


How to diversify and maximize your moola-making methods over time (hint: building a sustainable enterprise doesn't happen overnight!)


Why completion can be overrated and other tips for overcoming procrastination and overwhelm


Proven insider secrets on product marketing and DIY publicity for creatives


Why "slow marketing" better serves you and your customers long-term


What to do when you reach a meaning crisis (of the mini or mega kind) in your creative business. You know, when you ask yourself, "What am I really doing with my life?!! and "Okay, so what's next?"


Practices to help you cultivate more flow, spaciousness, and stamina in your work and creative life

I've secured top-notch speakers who will share their best tips and secrets for growing a sustainable business and tuning into what's truly next for you.
You can bet along with the meaty, actionable and practical content there will be colorful visuals and lots of laughs.
Heck you might even shed a tear or two! It happens every year, it's that inspiring!
Access to recordings forever + learning maps and checklists
By upgrading to the Booster Pass, you get to:
Enjoy a cuppa tea and connect with your virtual mentors on your own time as many times as you want
Articulate your ideas and actions using beautifully designed learning maps
Implement what you've learned with action-oriented left-brain checklists tailored for each session
Great to know I could re-watch the videos whenever I wanted
Jenn, thanks for offering the Booster Pass again this year. Last year it came in very handy when I couldn't make a session due to a meeting or a scheduling conflict. Even when I could participate live, it was great to know I could re-watch the videos whenever I wanted. Last year's video summit taught me so much that signing up for the booster pack again this year was a no brainer. Thanks again.
—Jen Landis, Pincurl Girls, www.pincurlgirls.com
Just want easy access, anytime you need, to:

recordings
learning maps
and checklists?
Get more guidance and support super affordably!
By upgrading to the Premium Pass, you get all that's in the Booster, PLUS you get:
Access easy-to-use formats of the material so you can listen, watch, or even read the interviews and discussions to your heart's content and integrate your learnings into your day-to-day life
More resources and materials to help you dive into the more left-brain aspects of the business in a way that's not as scary.
Connect with other right-brain entrepreneurs and receive the support and inspiration you've been craving (you don't have to go it alone anymore!)
Get more personal attention and guidance through group coaching calls with me and my star coach Kiala Givehand . You can use these to ask questions, get coaching, brainstorm ideas, and deepen what you learned during the summit.
So if you want to expand your business to the next level of success, upgrade to the Booster or Premium Pass. These special early-bird rates will go up after the event ends, so act now!
This is one of the most affordable ways to get coaching from me and my team PLUS you get an unbelievable content-rich, multimedia library that will help you can turn to again and again for advice and practical tools to grow your business.
You can see the details in a fancy visual chart for those of us who like pictures!
Lynsey decided that she couldn't afford NOT to join
I'm so thankful for everything I've encountered, felt, and learned about myself and others in the past 2 weeks. I have been so inspired by you and so many others during this video summit and need this momentum and support to continue on my path. I recently made the leap into a full-time creative career and
desperately need the community and connection with others
… in addition
accountability
and perhaps a little
tough love
. This is
too isolating and scary to do alone.
—Lynsey (Phleps) Morgan, www.enfusejewelry.com
Joanna loves not having to worry about taking copious notes
Last year I participated in the summit using the free replays. I learnt so much that I wanted to give something back to Jenn for her invaluable advice so this year I upgraded. It is wonderful to be able to listen and absorb the information without having to worry about taking copious notes before the free replay gets taken down! Whenever I am feeling stuck or overwhelmed, Jenn's videos get me super focused and back on track so it is great to know that I can dip in and watch them whenever I want!
— Joanna Mary, Healer and Author, www.joannamary.com
Monica forged connections that have helped her reach higher in her business
I go back to the videos and transcripts often, so much information and advice in each video and on the chat, it was invaluable to be able to go back over them when I needed a boost, encouragement, and inspiration.
— Monica Garcia, PhD, Divine Light Coaching, www.divinelightcoaching.com
Elizabeth left with a plan after each of the 4 previous summits and upgraded this year
"I think I've attended all four of your RBBIZ Summits and just feel like it is time to say thank you! By using your play sheets, I started my business at the first summit.
Every year, I leave the summit with a plan for how I'll grow in the rest of the year.
My business is something I'm so proud. It has given me financial security and confidence, and I want to let you know you had a hand in creating it.
Thank you for encouraging me to 'be uniquely you'."
— Elizabet Wendt, www.eastbayesl.com
What you get:
Booster
Unlimited access to all video recordings, plus MP3 audio recordings. It's like being able to access your virtual mentors at the push of a button!
Downloadable illustrated play sheets from the Right-Brain Business Plan book
Downloadable illustrated visual learning maps made especially for this summit to help track take-aways and document your actions.
Downloadable left-brain checklists with suggested action steps from each session to implement your learnings and make things real. Think of it like an action-oriented executive summary
Booster
$97

I'll let you in on a little secret…
I've been running this popular pioneering summit now going on five years.
Here's the thing…
This is the LAST TIME the summit will be offered (at least in this format) as I look to what's next in my business. It's scary to say that because why mess with a good thing, right?
Except, I can't ignore the tug toward a slightly new path, even though I'm not totally sure what it looks like. And because of the unknown this will be the most personal, vulnerable, and transparent summit yet!
Let this summit and our fabulous speakers give you permission to listen to what your deepest self has been desperately yearning for, but you've been too busy to take to heart.
I want this experience to remind you to be okay with change, transition, and letting go. In fact, one hallmark of a successful entrepreneur is being able to ride the waves of change and navigate through uncertainty.
Stop Dreaming and Start Doing!
I know you are ready to make your big visions real, make a meaningful impact, and make good moola doing what you love!
Get the guidance, encouragement, and tools to really go after what you want. You'll learn from successful entrepreneurial leaders who are making a meaningful difference while making good moola all while staying true to themselves.
So, make sure to grab your Booster Pass while it's on sale for Half Off through December 3rd!
Just want easy access, anytime you need, to:

recordings
learning maps
and checklists?
About Summit Creator Jennifer Lee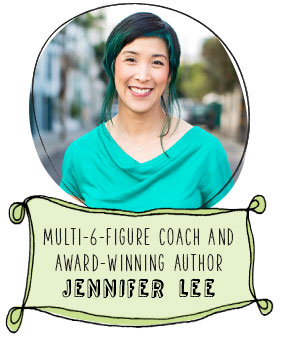 Jennifer Lee, CPCC, PCC, MA, is the founder of Artizen Coaching and the author of The Right-Brain Business Plan: A Creative, Visual Map for Success (New World Library, 2011) and Building Your Business the Right-Brain Way (New World Library, 2014). Her first bestselling book has helped tens of thousands of entrepreneurs around the world grow their businesses authentically and creatively.
After spending 10 years climbing the corporate ladder and getting tired of living her dream "on-the-side," she took the leap to pursue her passions full-time. Now she runs a successful multi-six-figure business, has developed popular products and programs, and she has licensed facilitators around the world who lead Right-Brain Business Plan® and Unfolding Your Life Vision® workshops based on her unique and visual approach to business and life coaching.
Jennifer has been featured in The Wall Street Journal, U.S. News & World Report and Entrepreneur, Whole Living, Family Circle, and Cloth Paper Scissors Studios magazines, numerous radio shows, and on ABC7 TV.
Jennifer holds a bachelor's degree in communication studies from UCLA and a master's degree in communication management from USC. She lives in the San Francisco Bay Area with her creative, rather left-brain husband and their sweet husky-lab mix.